If you have any questions, please Email CoachStu@att.net or
Use the Key Word Phrase "5 Star" to locate all of our Classes
Hi Families:
We have been enriching the lives of Children with our Classes and Camps for over 20 years. Learning to play Sports and playing Sports can provide very positive Life-long lessons and experiences for Children. Thank You for giving us the opportunity to serve you, our valued Clients and your Children by teaching them Sports and other FUN Games/Activities.
If you have any questions or further thoughts about this, please; Email CoachStu@att.net and/or call me at 818-597-1550. Thank you.
5 Star Sports Classes
CITY OF SANTA MONICA
Marine Park
1406 Marine Street; Santa Monica, CA 90405
We are offering our 5 Star Sports Camps during the Summer breaks in Santa Monica. The great Staff of Instructors who are currently teaching your Children in our Sports Classes will be scheduled to teach during our Camps as well.
I generally serve as the Camp Director for our Camps and you can learn why our Sports Camps are so great by watching our 8 minute Video by
CLICKING HERE
.
You can Enroll Online in our 5 Star Sports Camps by
CLICKING HERE
and/or on our Classes/Camp Flyer below. These links takes you to the Santa Monica Online Registration system. Please use the Activity Codes from the Flyer below and/or you can use the key word Phrase "5 Star Sports" to locate our various programs
To Enroll in our Winter 2018 Classes at Marine Park and/or Reed Park
PLEASE CLICK ON THE FLIERS BELOW TO GO TO THE SANTA MONICA ONLINE REGISTRATION PAGE.
USE THE KEY WORD PHRASE "5 Star" to locate our Classes & Camps for ages 2.5-4, ages 4-6 and ages 7-10
If you want to enroll after the beginning date, please contact CoachStu@att.net and we will work with you to prorate your fees for the missed classes
(Complete online, save and send as an attachment)
Please Sign Up below to be on our Email List for our 5 Star Sports & Enrichment

FUN BIRTHDAY PARTIES
AS A REMINDER:
1. Our Staff do AWESOME Birthday Parties
2. If anyone in your family is interested in our 5 Star Tennis Lessons in Santa Monica, please let us know.

If you have any questions or further thoughts about this, please email CoachStu@att.net or call (818) 597-1550. Thank you and have a great day.
TENNIS LESSONS IN SANTA MONICA
We teach Private, Semi-Private and Group Tennis Lessons (Beginning, Intermediate and Advanced for ages 4-Adult) in SANTA MONICA.

To Pre-Register for Tennis Lessons and/or Cardio Tennis Classes, Click Here

Flyer Example from prior Programs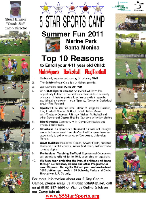 SPORTS CLASS STATUS DUE TO WEATHER CONDITIONS
March 24, 2018
This is a reminder that we will be teaching our Sports Classes at Marine Park today and on March 31 as make-up classes for when we got rained out a few weeks ago. We look forward to seeing you there.
Thank you. Stu
March 17, 2018
Both an employee at Star Bucks in SM and Coach Denny communicated to me this morning that the the sun is out and the ground in SM and where he lives in WLA is pretty dry We are going to try to teach our Sports Classes today at Marine Park, unless the Rangers have closed the fields. We hope to see you there.
Reminder: Make Up Classes are scheduled for March 24, 31, 2018.
Thank you. Stu
March 10, 2018-It's now 7:55 am and it's been drizzling in Agoura Hills where I live since at least 7 am. It's not raining yet in Santa Monica, but basd on the hourly weather forecast, it will probably rain by 9 am, so our Sports Classes are canceled for today at Marine Park. We plan to schedule make-up classes for the 2 rain-outs on March 24 and March 31. If you have any questions about this, please Email CoachStu@att.net or call me at 818-597-1550. Thank you and have a great weekend.
If you have any questions about this, please Email CoachStu@att.net or call 818-597-1550

Thank you and have a great weekend. Coach Stu
SLIDE SHOWS OF 5 STAR SPORTS CAMPS-SUMMER 2009 (Please click on the links below)
5 Star Sports Camp; Santa Monica; Winter 2009 (Part 1 of 3)

5 Star Sports Camp; Week of Aug 31-Sept 4, 2009; Part 1

5 Star Sports Camp; Week of August 24-28, 2009; Part 2

5 Star Sports Camp; Week of August 24-28, 2009; Part 1

5 Star Sports Camps-Week of July 27-31, 2009 (Part 2)

5 Star Sports Camp-Week of July 27-31, 2009 (Part 1)

5 Star Sports Camp-Week of July 20-24, 2009 (Part 2)

5 Star Sports Camps-Week of July 20-24, 2009 (Part 1)

5 Star Sports Camp; Week of July 13-17, 2009; Part 2

5 Star Sports Camp; Week of July 13-17, 2009; Part 1

5 Star Sports Camp; Week of June 22-26, 2009; Part 2

5 Star Sports Camp; Week of June 22-26, 2009 (Part 1)


5 STAR SPORTS & 5 STAR FITNESS INFORMATION (Please click on the links below)
Click Here to Shop Online at
SportsAuthority.com